> Products >
Stainless Shot
Stainless Shot
Kyoungsung's New Technology with World Wide Recognition.
Stainblast is used where there are unwanted remnants
in the blasted composed element or when a glossy surface is needed.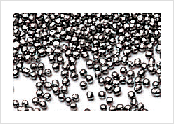 Abrasive goods do not leave rust or metal remnants on the operated material. Stainblast is used on magnesium, aluminum, nickel & chrome, together with compounded metals and other non-metal parts.
Compositon-SUS 304 27 classes
Excellent corrosion resistance and abrasion resistance
Fine management of surfaces
Strong body of 7.85 gravimeter scale, shot treatment time reduced
Chemical analysis & HRC
Application
Al Die-casting products, aviation material parts, non-metal products, automobile parts over-all, environmentally friendly granite surface, etc..

SPECIFICATIONS
CHEMICAL
ANALYSIS(%)
Grade
Nominal size(m/m)
Limits for diameter & cut length(m/m)
HARDNESS(HRC)
KSUS 2
0.2
0.17 ~ 0.23
50MIN
KSUS 3
0.3
0.27 ~ 0.33
48MIN
KSUS 4
0.4
0.37 ~ 0.43
48MIN
Cr
18.00 ~ 20.00
KSUS 5
0.5
0.47 ~ 0.53
46MIN
Ni
8.00 ~ 10.50
KSUS 6
0.6
0.58 ~ 0.62
44MIN
C
0.08MAX
KSUS 8
0.8
0.78 ~ 0.82
42MIN
Si
1.00MAX
KSUS 10
1.0
0.98 ~ 1.02
42MIN
Mn
2.00MAX
KSUS 12
1.2
1.18 ~ 1.22
40MIN
P
0.045MAX
KSUS 16
1.6
1.58 ~ 1.62
39MIN
S
0.030MAX
KSUS 20
2.0
1.98 ~ 2.22
39MIN