> Products >
Cut Wire
Cut Wire
Kyoungsung's New Technology with World Wide Recognition.
Wire blast carbon steel and wire blast stainless steel can be used in the following three areas :
1) Cutting use(cylindrical shape with sharp edge)
2) Section state (comers are round)
3) Integral state (ball shape)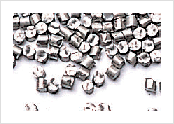 The Stainless steel of wire blast becomes toughter as it is used. Therefore, it can be used as an abradant for much longer time.
Compositon : high carbon reduced wire
Complete strong body, long-lasting
Shot treatment time reduced more than 2 times compared to steel ball because of excellent rebound property
Strong shock impact, product's surface color is natural
Chemical analysis & HRC
Application
Surface treatment of metal products, lathe and metal structure pre-coating treatment, gas container pre - treatment, etc..

SPECIFICATIONS
HARDNESS(HRC)
CHEMICAL
ANALYSIS(%)
Grade
(SAEJ441)
Nominal size
(m/m)
Limits for diameter &
cut length(m/m)
Kyoung
Sung
SAE J441
KCW 2
0.2
0.15 ~ 0.24
48MIN
KCW 3
0.3
0.25 ~ 0.35
48MIN
Carbon
0.45 ~ 0.72
KCW 4(CW-20)
0.4
0.36 ~ 0.44
48MIN
48MIN
MANGANESS
0.60 ~ 1.20
KCW 6(CW-23)
0.6
0.57 ~ 0.63
46MIN
48MIN
SILICON
0.10 ~ 0.30
KCW 8(CW-32)
0.8
0.78 ~ 0.82
44MIN
45MIN
PHOSPHORUS
0.045MAX
KCW 10(CW-41)
1.0
0.98 ~ 1.02
43MIN
42MIN
SULPHUR
0.050MAX
KCW 12(CW-47)
1.2
1.18 ~ 1.22
42MIN
41MIN
KCW 14(CW-54)
1.4
1.38 ~ 1.42
40MIN
39MIN
KCW 16(CW-62)
1.6
1.58 ~ 1.62
40MIN
36MIN
KCW 20
2.0
1.98 ~ 2.02
38MIN
KCW 22
2.2
2.18 ~ 2.22
38MIN