> Products >
Aluminium Oxide & Garnet
Aluminium Oxide & Garnet
Kyoungsung's New Technology with World Wide Recognition.
Aluminum oxide can process the surface when it is extremely dry or extremely wet.
It is the strongest metal after diamond with a diverse particle number and can get down to micro inches. It is very suitable for precise processing of parts.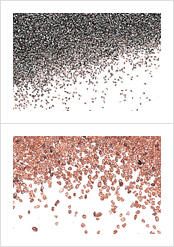 Aluminum oxide
Shot-least harmful abrasive
Hardness (Moh Scale)- 9
Color-Brown, White, Pink
Color-crystal
Chemical Components - Al2O3 95 ~ 99.0%
Garnet
Grinded meterial of the natural mineral, relatively cheap
Hardness (Moh Scale) - 7.5
Chemical Component - Al2O3 20%, SiO2 36%, Feo 30%
Application
Cold storage container surface treatment, precise casting products, gold mold cleaning, electronic circuit plate, cellular phone case, etc..

CHEMICAL ANALYSIS
HARDNESS
SPECIFIC GRAVITY
LIFE CYCLE
AL OXIDE
A1203
96.5%
9.0 per MOHS scale
3.90
About 10 recycles
TiO2
2.30%
SiO2
0.50%
Fe203
0.20%
GARNET
Silicon dioxide(SiO2)
35%
7.5 ~ 8.0 per MOHS scale
4.0 ~ 4.1
About 8 recycles
Ferric oxide(Fe203)
33%
Aluminum oxide(Al203)
23%
Magnesium oxide(MgO)
7%
Calclum oxide(CaO)
1%
Managenese oxide(MnO)
1%